| | |
| --- | --- |
| Press on the pic¨s for sdr software | |
Så kom mit nye legetøj,
New 50KHz-200MHz Malahit SDR Receiver Malachite DSP Software Defined Radio 3.5" Display Battery Inside Nice Sound - Red 50KHz-200MHz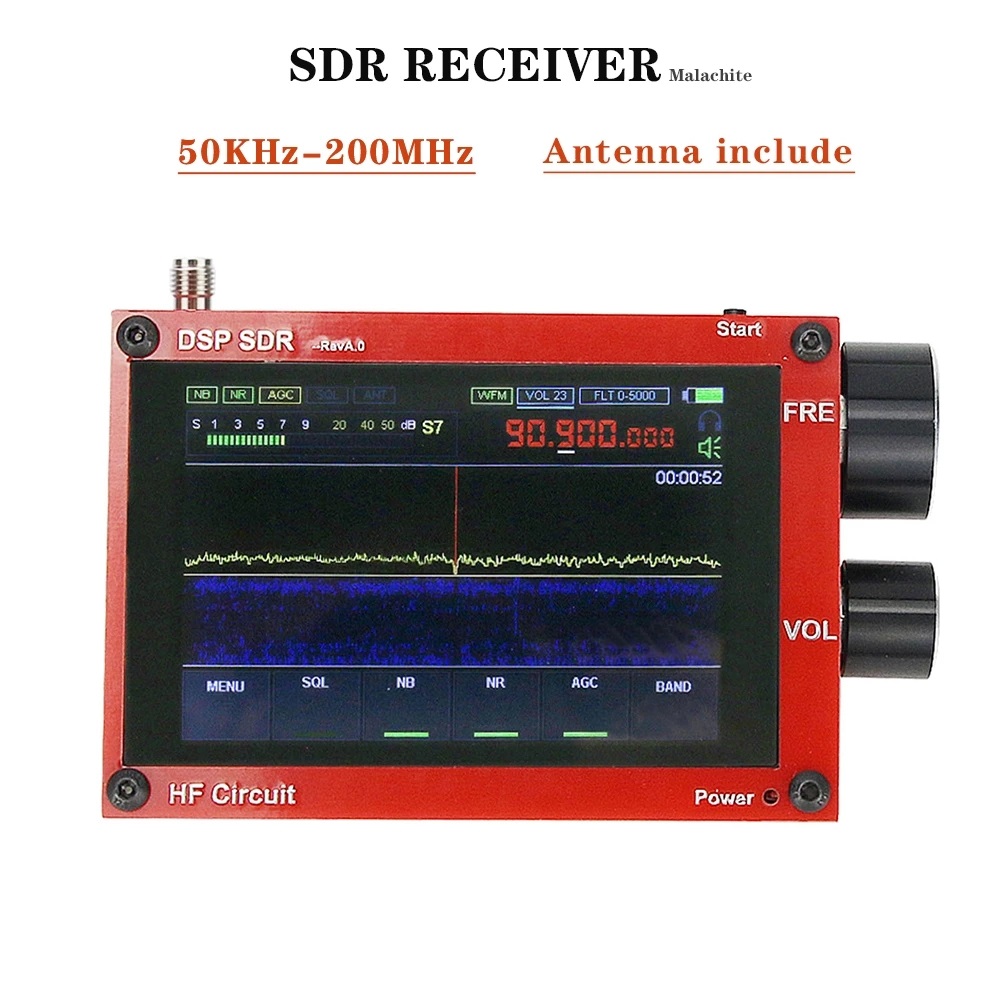 1. 3.5-inch capacitive screen
2. 4-layer board structure, higher performance than two-layer PCB
3. Adopt a sound unit, 2 vibrating chambers, the speaker comes with a sound chamber, the bass sound quality is very full
- DSP SDR Receiver for Malahit
- Capacitive touch screen
- Default frequency range: 50KHz-200MHz, 400MHz~2GHz (Optional)
- Demodulation mode: AM, SSB, NFM, WFM
1) The radio is built on the principle of SDR-the function is determined by loaded software;
2) Frequency range: from 50 kHz to 200 MHz (default version), users can contact official website to upgrade from 50 kHz to 250 MHz, 400 MHz to 2 GHz;
3) All types of analog modulation: AM, SSB, NFM, WFM;
4) Powerful functions: variable filter width, adaptive noise suppressor, threshold noise suppressor, for Noise Blanker, AGC, equalizer;
5) Use cheap but fully functional chip msi001;
6) The powerful stm32h743 with a clock frequency of 480 MHz is applied;
7) 3.5-inch IPS display touch screen;
8) There is a built-in UHF;
9) Controls: 2pcs; encoders with buttons and touch screen;
10) It is powered by built-in battery and USB, and has linear lithium battery charging management, which can be charged through TYPE-C. The capacity of the built-in battery is not less than 2000mA/h.

11) Consumption: 300mA when listening to headphones;
12) The reception on built-in telescope or external antenna is to improve the HF reception on telescope antenna, and an additional board with source follower has been developed. The board will be built into standard receiver design.
13) Connect to computer via USB, which can transfer CAT, IQ and audio.
14) 160 kHz span, with scalability;
15) Sensitivity: Under the condition of up to 250MHz, s/w is 0.3μV = 10dB; due to lack of measurement equipment, so the above measurements were not taken;
16) Due to the characteristics of msi001 chip used, dynamic blocking range is about 85dB.
17) With backlight control;
18) SMA female antenna socket;
19) Motherboard size: 100 x 70mm (without the sizes of connectors).
- 1 x Set of SDR Receiver